GARTH'S MAJOR BABE!
SULTRY, SEXY AND
SLAMMIN' ASIAN WOMAN!
Find out how this gorgeous Filipino/Hawaiian/Asian creature's career developed in films with many of the top male stars in the film industry!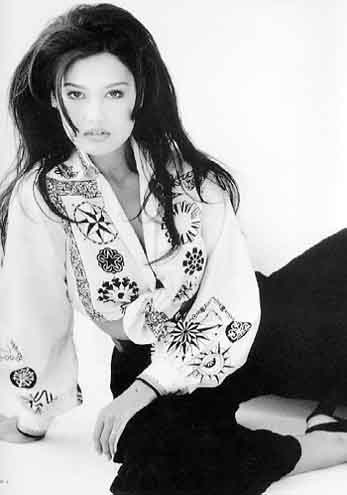 Althea Janairo, known more popularly as Tia Carrere, was born on January 2, 1966 in Honolulu, Hawaii. Of Filipino descent, she comes from a relatively small immediate family, consisting of her two divorced parents and one younger sister who currently attends the University of Hawaii. Althea's nickname "Tia" was made because her little sister, Alesaundra, couldn't pronounce her name. The name "Carrere" is a tribute to Barbara Carrera. Tia has been married Elie Samaha, a
Lebanese-Italian man, since November 22, 1992 and while she plans on having kids of her own, her busy work schedule doesn't permit it at the time. (Note: They were divorced in 1999.)
The actress/singer is best known as the Chinese singer in Wayne's World, but has also played prominent roles in several other blockbusters including Rising Sun (with Sean Connery & Wesley Snipes), Hollow Point, High School High, & True Lies (w/ Arnold Schwarzenegger). In addition to producing several songs on the Wayne's World soundtrack, Tia has previously released
an album called "Dream," drawing on voice lessons she's had since age 11. She & her husband also own their own production company, Phoenician Films.
Tia's current projects include Kull the Conquerer (a Conan-esque adventure with Kevin Sorbo) and Top of the World (with Dennis Hopper and David Alan Grier).
Tia, despite phenomenal success, has managed to keep her image a pure one and has categorically refused to do any nude scenes or photo shoots. (Note: It has been reported that she will be doing posing for Playboy in 2003)
Click HERE and HERE to read about her & her new movie project that Tia is planning with Pamela Lee Anderson that her husband is producing. Can you imagine two gorgeous ladies in one movie, does it matter what the plot is? Does it matter!?!?
TIA CARRIERE'S FILMOGRAPHY
My Teacher's Wife (1998)
Fatal Mission (1997)
Kull the Conqueror (1997)
High School High (1996)
Hollow Point (1996)
Hostile Intentions (1995)
High School High (1995)
Jury Duty (1995)
The Immortals (1995)
True Lies (1994)
Wayne's World 2 (1993)
Rising Sun (1993)
Wayne's World (199)
Harley Davidson and the Marlboro Man (1991)
Showdown in Little Tokyo (1991)
Aloha Summer (1988)
Zombie Nightmare (1986)

For a complete list of all her appearances in films, t.v. films, t.v. shows and other upcoming projects for Tia and her production company, please click HERE. For a list of awards that she has won, click HERE to find out more information. Tia Carriere's Web Ring can be accessed by clicking HERE to get additional pictures, background information, latest activities, future projects and many other things.

Specific background info on Tia's many activities can be found when you click HERE and on her newest television production - THE RELIC HUNTER - by clicking HERE.



Any questions regarding the content, contact Asian American Artistry
site design by Asian American Artistry
Copyright © 1996-2003 - Asian American Artistry - All Rights Reserved.